Benevolent by Erin Jensen | A Review
In truth, it has taken me an ridiculously long time to post this review, but by golly, here it is! The tale of how Benevolent came to be in my possession is a quaint one: Erin Jensen, the author, reached out to me, asking if I'd be willing to review her novel. A novel, she explained, that was inspired by the CW series Supernatural. And, more specifically, by Castiel.
Did you hear that? A NOVEL INSPIRED BY CASTIEL! Have I not been shouting into the cavern of literature for years, demanding such a treasure?! Is this fate? Am I dreaming? Needless to say, it became clear to me as I read the novel that Benevolent is not just an ode to all the wonderful feelings Supernatural gave us; it's a letter to our own hearts, whether broken or whole, filled with happiness or sorrow.
---
Benevolent
Genres:
Fantasy
Pages:
293
Published by
Dream Waters Publishing on February 2nd, 2019
Format:
ARC
ISBN:
9780997171297
Amazon
|
B&N
Tormented by the in-crowd at school on a daily basis, there were two things that gave fifteen-year-old Abigail Perkins the strength to keep going—her best friend, Danny Cobb; and her favorite television show, Supernatural. But the night Danny's mother calls to say that his battle with cancer is nearing its end, and the doctors don't expect him to live through the night, even Supernatural can't dull the ache in her heart.

Devastated by her impending loss and crushed that Danny's mother won't allow her to visit him one last time, Abigail crawls into bed and cries herself to sleep that night; and she wakes to find Supernatural's most endearing angel standing at the foot of her bed.

Told from Abigail's perspective as she nears the end of her long life and revisits the moments that defined it, this story was inspired by the deep connection that Supernatural fans feel with the show's beloved characters, and the show's miraculous ability to help its fans through troubled times.

100% of the net proceeds from this book will go to Random Acts charitable organization.
I have received this copy from the publisher or author in exchange for an honest review. These opinions are my own.
---
What I loved ♥
I first heard about Benevolent when the author, Erin Jensen, reached out to me. Her email was so different from what we usually get here at Bookish Valhalla , filled with thoughtfulness, honesty, and compassion for her book. And of course, I made it known to her immediately how much I FREAKING LOVE SUPERNATURAL and I absolutely wanted to read the story ASAP. Not to mention, all the proceeds earned go to RandomActs.org, which I think is amazing. This isn't everything I loved about the story–there's simply too much to love about it to list, but it's a sneak peek into that top six reasons why I ugly cried, clung to, and adored this unexpected story.
The Representation of Grief and Mental Health. To be honest, some stories are hit or miss when it comes to accurately (and uniquely) portraying mental illnesses and the effect unexpected life events can have on them. Perhaps this is why I felt so connected to Benevolent–because there's such a raw honesty to the portrayal of grief, loneliness, depression, and fear that I couldn't help but wonder how Abigail was going to sew her life back together once it ruptured. I know this feeling all too well because I've experienced my own battles with mental illness, but Benevolent succeeds where others fail because it doesn't just show how crippling loss can be or how much we might depend on others for strength; it reveals that we, too, are strong. That not all days are bad days. I enjoyed seeing Abigail portrayed as an active (albeit struggling) participant in her own destiny. And though life has pummeled her with lemons, she's not a victim. Life doesn't just happen to her; she lives, too.
The Playlist. I won't go into this too much because I want you guys to discover this on your own, BUT each chapter ties into a song, which is super cool. I loved this part of the format because it's creative. You don't often see whole playlists for books–or chapters inspired by them, not even in books heavily featuring music. So I thought this was a nice little edition to the experience.
The Story Is Poignant In All The Right Ways. Benevolent opens at the end of Abigail's life, with her looking back on all the events that have shaped her–good or bad. She was bullied in school. Her best friend struggles (and dies) from Cancer. There is so much that happens that it will break your heart, but we still get a sense that she's trying to take it in stride. She's a girl in a world seemingly falling apart and she does what she can to keep it together. Perhaps the most profound event of her life (coinciding with the death of her best friend) is meeting the angel, Castiel.
Oh Abigail! How my heart aches for thee! The truth is, Abigail is a light in this book. She's so kind and compassionate, and it breaks your heart to watch her struggle as her friend is slowly consumed by Cancer. You want to hug her and protect her and be there for her, in all the ways she'd likely be there for you. And maybe that's why I loved her so much as a character; she's everything I would need if the situation was revered. Her character is so relatable, it's lovely and painful and everything in between. Add in the everyday bullying, and you just want to dive into the book, pick up a bat, and threaten to give bad plastic surgery to anyone who dares to be mean to her (#sorrynotsorry). Her character is so thoughtful as she looks back on this, and so heart-wrenchingly forgiving toward her past.
It Draws Inspiration From Supernatural. But don't let this fool you into thinking it's a spin-off type story or a fandom free-for-all. What I love is how Jensen uses a most beloved character from Supernatural in a unique and refreshing way…by infusing him into her own story. It's a beautiful blend of the Castiel we Supernatural fans know and love, but a completely new story that centers around Abigail. I'm not sure I'm even describing it correctly LOL but I personally feel this is creative and it's also exactly how I'd imagine Castiel spending his time out in the real world: helping people through difficult times. And we get to see a whole other side to Castiel, which I absolutely loved (but refuse to spoil for you!)
The Writing Is Thoughtful. What I mean by this is….it's well-matched to the story. It's not written in an overly sentimental manner, which can happen with stories that look back on emotionally infused events. The writing flows, with just the right balance of internalization, retrospection, and a hint of poetry. It's poignant and aware, but not overly indulgent. Although it's not my favorite writing style (I'm a weirdo who overindulges in purple prose mountains crammed between covers), I couldn't help appreciating the simple yet emotional fluidity of the writing in Benevolent.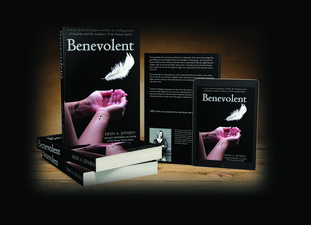 Final Verdict ♥
Benevolent is worth the read a dozen times over. It's difficult to find books that have such sentimentality, thoughtfulness, emotionality, and character development without taking things too far. However, Jensen's story masterfully invites readers into Abigail's heart–flawed and battered as it is–and shows us a true light in the darkness through Castiel. It portrays grief in such a poignant way without romanticizing it (which can happen) and openly explores very real vulnerabilities we can all relate to. Due to the heavy nature of this story, I would recommend it for ages 15 and up.
Bookish Valhalla Worthiness
The Characters
The world
The plot
The feels
The cover
The writing
Overall:
About the Author ♥
Erin Jensen is the Amazon International bestselling author of The Dream Waters Series. She was awarded the Bronze Medal for fantasy fiction in the 2018 Readers' Favorite international book award competition. She also received Honorable Mention for fantasy fiction in the 2018 Writer's Digest self-published e-book awards. A part-time pharmacist and a full-time daydreamer, she resides in upstate New York with her ridiculously supportive husband, two teenage sons—who are both taller than her—and a Yorkshire terrier who thinks he's the family bodyguard.
      ErinJensen.com | Twitter